My Favorite Jewel- Great Grandma's Bracelet
by Jeanette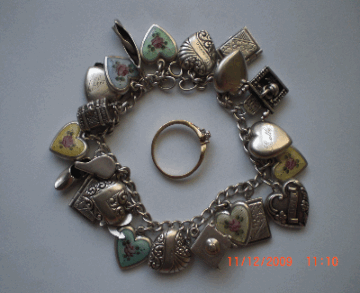 I have this sterling silver bracelet that my grandma gave to me when I was about in 6th grade. It belonged to her mother. She was busy going through things when she was moving from Kansas City Mo. To North Carolina. I had seen it.


My grandma had asked if I give this to you do you promise to take care of it and wear it? I said I promised. My grandma had told me it belonged to her mother. My grandma said that it had been given to her mom by the ladies that she worked with at the Muehlebach hotel coffee shop in downtown Kansas City Mo.
She said that all 23 charms had a name on each belonging to the one who bought the charm for the bracelet That was about it. Years later. My beloved grandma died from cancer 4 days before my 21st birthday. Two days before my birthday was the ceremony.
So all I had from either one of my grandmothers was this one bracelet. I never got anything from either one of my grandmothers. I guess everything had been spoken for. So I kept true to my word and kept it safe and wore it from time to time. It has been with me since I was a little girl. I guess the reason why this bracelet means so much to me is because It was given to me - it was handed down.
I had not taken it the way others had taken things after both grandmas passed. It was a wish of theirs that I had it. I am forever grateful that I was given this and i did not have to feel the need to take it because it was given. Now with this being said. I have had this forever.
No one knew about it evidently, so when it was seen upon my wrist of course it was asked about and how I got it. Many years later I moved into an apartment I live in now. I had it put away in a box in my closet so it would not get lost or anything happen to it by mistake.
Though I thought
I had put it in a different box on my dresser. About a month ago around thanksgiving I went to get my beloved bracelet. It was not there. I tore the apartment up nothing left unturned. Except one box that held the box that had the bracelet. I had cried. I had broken a promise to my grandma the one and only thing, besides her love, that I could pass down to my child, the only thing that she ever asked of me.
She made me promise to take care of it and it is gone. I had given it up for loss along with my promise. That is what hurt the most; that I had broken such a promise to my grandma who is no longer with me.
I could and never would forgive myself. Well, just yesterday, i decided to clean my closet for good. Keeping nothing that had no meaning to me. I opened the box and there was a little light blue green box the color of a tiffany's box but what was inside was more valuable than anything from tiffany's could ever be.
I knew before I even picked the little box up what was inside. Tears filled my eyes as they do now thinking of the request for me to wear and take care of the bracelet and the promise thought to have been broken still held fast in my heart. There is only one other piece of jewelry that I love almost as much and that is the

locket that I had posted on Antique Jewelry Investor
a few days ago.
The funny thing is I would have given that locket up in less than a heart beat if it meant I could have been able to keep my promise to my grandma and have my great grandma's bracelet back with me.
Here now today I have both pieces and I could not want anything else. Everyone can keep their 1,2,3,4 carat diamonds because my simple silver bracelet and locket cannot and will not ever be replaced. Some hold the value of elite jewelry in high regards but my simple but yet unique pieces, I hold in my heart.
Jeanette