September Jewel of the Month 2010
Treasure of Vergina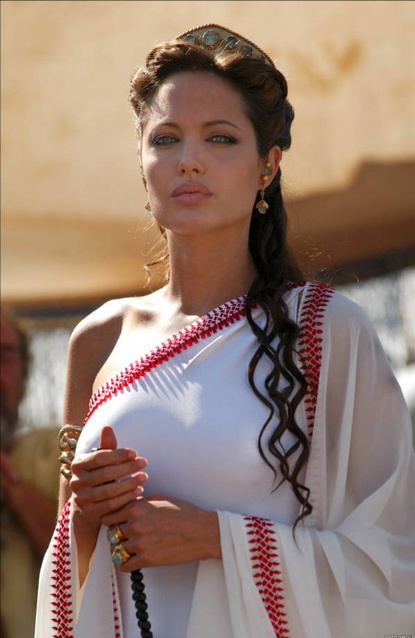 Angelina Jolie as Queen Olympias in Hollywood film Alexander
September Jewel of the Month 2010 is a famous ancient treasure that was the inspiration for the Hollywood production film - Alexander. Famous actress, Angelina Jolie portrayed Queen Olympias in Oliver Stone's 2004 biopic "Alexander" opposite Colin Farrell as Alexander the Great and Val Kilmer as Philip II.
Olympias claimed that her son Alexander The Great  was the son of Zeus.
Angelina wore jewelry for the part, in keeping with the period, which was similar in design style to ancient Greek Macedonian Jewelry found among the famous treasure of Vergina. The Vergina treasure had been buried for centuries in the village of Vergina (Ancient Thessaloniki) in Macedonia northern Greece that dates from c. 350 BC.
Archaeologists were interested in the hills around Vergina as early as the 1850s. Excavations began in 1861 under the French archaeologist Leon Heuzey, sponsored by Emperor Napoleon III. However, the excavations had to be abandoned because of the risk of malaria.
In 1937, the University of Thessaloniki resumed the excavations. More ruins of the ancient palace were found, but the excavations were abandoned on the outbreak of war with Italy in 1940.  A list of 100 Best things to do in Italy in the 21st century - Jen's reviewed them Here...

However,  it was not until  1977, that Professor Manolis Andronikas of the University of Salonika finally discovered the  ancient treasure in an extraordinary tomb, believed to be the burial place of Alexander the Great's father, the great warrior king, Phillip II.
| | |
| --- | --- |
| Among the magnificent gold articles found was a Diadem of delicate flowers on which sits a golden fly, an important Ancient Egyptian motif.  A circular regal headband, two oak-leaf wreaths, a woman's pectoral,  a men's breastplate as well as much astonishing silver, bronze, and gilded vases and weapons were among the articles found. | The Diadem was among the Ancient Vergina Treasure |
The List of Gemstones Click Here...
Resources:
http://en.wikipedia.org/wiki/Olympias
Return to the top of September Jewel of the Month 2010
Return to Jewel of the Month
Return to Antique Jewelry Investor Home Page