Rare Natural Abalone Pearls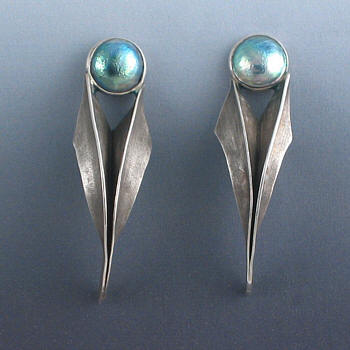 Natural Abalone Pearls
Natural Abalone pearls are the ice-maidens of the sea. New Zealand's  proximity to the south pole and it's cold oceans, Abalone Pearls like to call home. See extraordinary Dolphin Abalone Natural  Pearl Click Here..
Kiwi  (a "Kiwi" is the nickname used internationally for people from New Zealand) Roger Beattie, perfected the process of cultivating Natural Abalone Pearls, creating a superior gem, unparalleled for beauty and color. The Kiwi's love of New Zealand paua shell was finally rewarded. After a French scientist gave up attempts to cultivate pearls in abalone ninety years before, Roger Beattie perfected the cultivating process, and is the New Zealand master of the Abalone Pearl!
Ocean-based Abalone Pearl farms are located in the cool, clean, blue oceans around New Zealand in the Chatham Islands, Marlborough Sounds, The Banks Peninsula, and Wellington Harbour, producing the most beautiful Natural Pearls of the most astonishing blue color.
Healthy paua shells are harvested from the coastline and once these paua shells have been re-settled into pearl barrels suspended beneath the surface of the ocean they are fed only on their natural diet of nutrient-rich seaweed.
Paua eat up to 50 percent of their body weight in seaweed every week. They are nucleated at the right time above sea, onboard a pearling vessel.
These marine pearls are the rarest of the rare. It can take up to 3 years to produce a single Pearl! The overall success rate for saleable pearls is only 25 percent and only one in fifty pauas produce a near-perfect abalone pearl.
Haliotis Iris or Paua shell can only be gathered by free-diving, which involves No breathing equipment, and often in adverse weather conditions.
And the miracle of paua pearls is their Color, by adding the color BLUE to the pearl palette. l think of these Perlatas as the Blue Gem Opals of the Sea! Opals from Australia, are famous for their amazing & unique colors! Natural paua pearls are prized for their iridescent blues and greens.
Since the Abalone belongs to the Snail family and not the Oyster family, they are the most difficult to cultivate and for this reason among others, the beautiful Abalone Pearls, "Gem Opals of the Sea" remains the rarest of rare sea-gems in the world of Natural Pearls.

Return to the top of Natural Abalone Pearls
Return to Natural Pearls
Return to Antique Jewelry Investor Home Page