Possible Victorian ring hallmark ID help
by Keri
(Vermont, USA)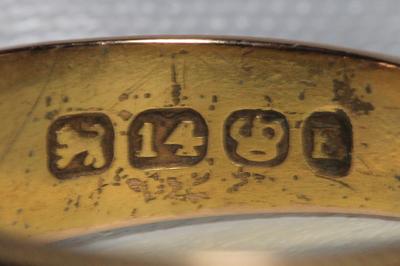 Hallmarks
What is the item? A ring, similar in style to some of the "buckle rings" from Victorian times.


Can you please provide all background information?
I purchased the ring online several months ago as my wedding ring. I am curious to it's heritage - particularly where and when it was made.
What are the markings?
An animal (cat? lion?) standing sideways with tail and it's front paw raised. The number fourteen. What appears to be a crown. An upper case letter E. The hallmarks are followed by an engraving, in script, that says "Will to Carrie".
Where are the markings?
On the inside of the ring.
Click here to read or post comments