Boy on a Bat Cameo 2
Joanne The cameo is over a 100 years old. It was given from aunt to niece and I'm the 3rd generation of which I know. I tapped my teeth on it and it is not man made. (hint I got from one of your contributors!) I will persevere and get the pics uploaded. Thanks


Family Antique Cameo
by Barry
(United Kingdom)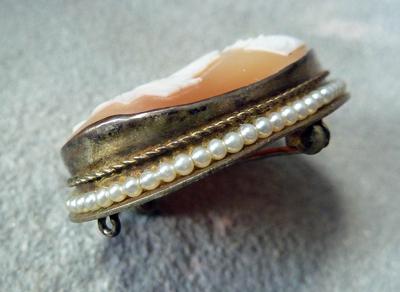 Pic1
Hi
I have recently inherited a family cameo and I am interested in finding out as much as possible about it.
Hope you can help with its age, material, subject matter (woman), what to insure it for (if relevant) and anything else you can offer me as to its history.

It has no markings, it is 4cm long and 3cm wide. Has a curved underside with clasp and loop to attach a chain.
See photos for detail
Hope you can help
Regards
Barry

How much is a cameo worth approximately 120 years old?
by Beverly
(Puyallup, WA)
My Mom has recently passed away at 78 years old, and the year prior had given me her grandmother's engagement ring, which is a coral color with 2 small diamond chips. It is in almost perfect condition, but I desperately am looking to sell it without getting ripped off. Do you have any suggestions?
Click here to read or post comments
How Old Rare and Valueable?
by Jill
(Jacksonville, FL, USA)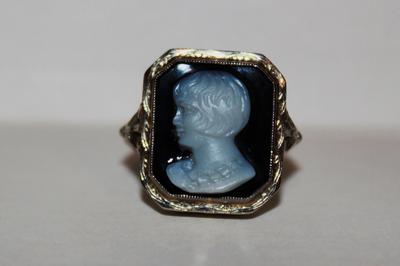 Well, we know for sure it's 18K because we had a jeweler test it today. What we dont know is how old, how rare and the value. Can you help?

It was passed down in my family and we are from the south central Pennsylvania area. I dont know if that helps.
Click here to read or post comments
what's my old cameo worth?
by Delilah
(Monticello, Ky, US)
My grandmother left me this cameo. She knows it's really old. Approximately over a hundred years old. It's gold and has little diamonds around it. You can tell its really old, but I'm afraid it may not be made out of the best of diamonds.

I know a woman had offered me 600 dollars for it cash but it has way too much sentimental value considering my grandma is no longer with us. Could I get an estimate on how much this cameo may be worth? I know that not having a picture uploaded it's hard to up and guess, but I have no clue what any cameo is worth let alone one over a hundred years old.






100 Years Cameo Ring Price?
The Cameo in my cameo ring is no more than a 1/2 inch cameo, white, with orange discoloration in the hair of the woman. it's in a very aged looking gold setting with no maker's mark. My aunt told me it's over 100 years old and from england.

Click here to read or post comments
Valuable 100 Year Cameo
by christine
(ct)
I have a 100 year old cameo brooch/pendant which has three diamonds set as an earring and set as a necklace on the woman figure. The brooch is 14 k gold as well. Is is valuable?
Lovely Old Cameo
by susan
(auburn,in,usa)
I have an old shell cameo with an odd hallmark or maker's stamp. I think it looks like a rounded w or m depending on which way you look at it.

I am curious if you can give me a ball park estimate of it's possible worth.
thanks


Click here to read or post comments