'The Loch Ness Monster Biting a Fish' Ring. Why are there two letters symbols on this ring?
by Aika
(Singapore)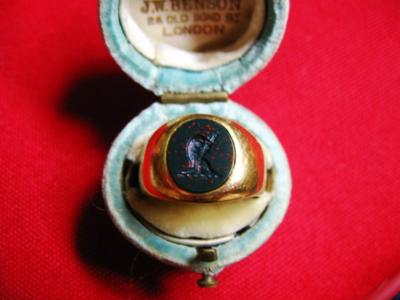 Loch Ness Monster biting a fish
What is the item?


It's an intaglio ring.
Can you please provide all background information?
Not sure where it's from. It has a bloodstone with a design of Loch Ness Monster biting a fish. Perhaps a family's crest.
What are the markings?
Correct me if I'm wrong:
'R.N.W' which from my research is Richard Whitehouse
'A Crown' which is from Great Britain
'18' which means 18 ca of gold
'Head of Jaguar' which I know it's an Essay Office in London?
'q' which I calculate year 1863.
For the outer ring, there's a symbol of letter 'h' which I calculate the year 1871.
Where are the markings?
Everything is on the inner ring. Only the letter 'h' is on the outer.