Breakthrough Discovery of the Pearl Cultivating Technique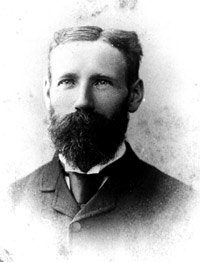 Marine Biologist - William Saville-Kent - early discovery of the Pearl Cultivating Technique
The Japanese are credited for the discovery of the pearl cultivating technique, that resulted in Cultured Pearls;  specifically, Japanese Mikimoto Cultured Pearls. It was held that  two Japanese scientists Tokichi Nishikawa and  Tatsuhei Mise, discovered the technique in Australia and then exported it back to Japan.  
Read More About The History of Cultured Pearls Here
 However, Australian, C. Denis George, raised eyebrows when he convincingly argued  that it was not  the Japanese  at all who first discovered the technique of culturing pearls but a British-expatriate and marine biologist living down-under in Australia by the name of William Saville-Kent. (b. 1845 - 1908)! 

George challenges the credit normally given to the Japanese of discovering the Cultivation of Pearls.
Read more Information about Pearls 
George argues that Nishikawa and Mise were originally introduced to successful pearl cultivation on Thursday Island  under the expert guidance of William Saville-Kent, an English Marine Biologist who was iving and studying marine biology on Thursday Island. (TI short for Thursday Island and lies just north of the tip of Cape York in Australia in the Torres Strait)
In George's  controversial article:
Debunking a Widely Held Japanese Myth: Historical Aspects on the Early Discovery of the Pearl Cultivating Technique," (pdf) 
George campaigns for William Saville-Kent to receive proper recognition for his pioneering efforts and acknowledgment for the  discovery of the cultured pearl culturing technique. 
Early Discovery of the Pearl Cultivating Technique
was in the Surrounding Waters Off Thursday Island
George claims that Saville-Kent shared his bead and tissue-piece technique around the late 1800s with the two Japanese scientists on Thursday Island. The two scientists  then went back to Japan and repeated the technique in Akoya Mollusks and claimed it as their  own discovery.
Using texts and personal accounts as evidence, George places Nishikawa and Mise in Australia during Kent's pearl operations on Thursday Island. The trip predates Nishikawa and Mise's application for patent.
George further cites Japanese reluctance to acknowledge Saville-Kent's pearl research in text and conversation as evidence to support if not the deception, the Japanese act of cultured pearl pioneering omission.
George has written numerous reports on the subject or  omission (however you see it) and went on to establish the "William Saville-Kent Memorial Pearl Museum". Denis George even named his pearling boat, "TSMV William Saville-Kent" in recognition of his hero. Now, that's  saying something!
George concludes his article by appealing to the pearling community and supporters at large, to give William Saville-Kent, and his ground-breaking pearl experiments  the acknowledgement and recognition they deserve. 
References:
Saville-Kent, W. The Great Barrier Reef. London, W H Allen, 1893
Special Thanks to Pearl World: The International Pearling Journal.

From abstract by Anna Kerrig, 15th May 2009, http://www.pearl-guide.com/debunking-japanese-myth.shtm
Image courtesy of www.userson.net

Return to the top of Discovery of the Pearl Cultivating Technique
Return to Mikimoto Pearls
Return to Antique Jewelry Investor Home Page