Elizabeth Gets That Peachy Pear Cartier Diamond!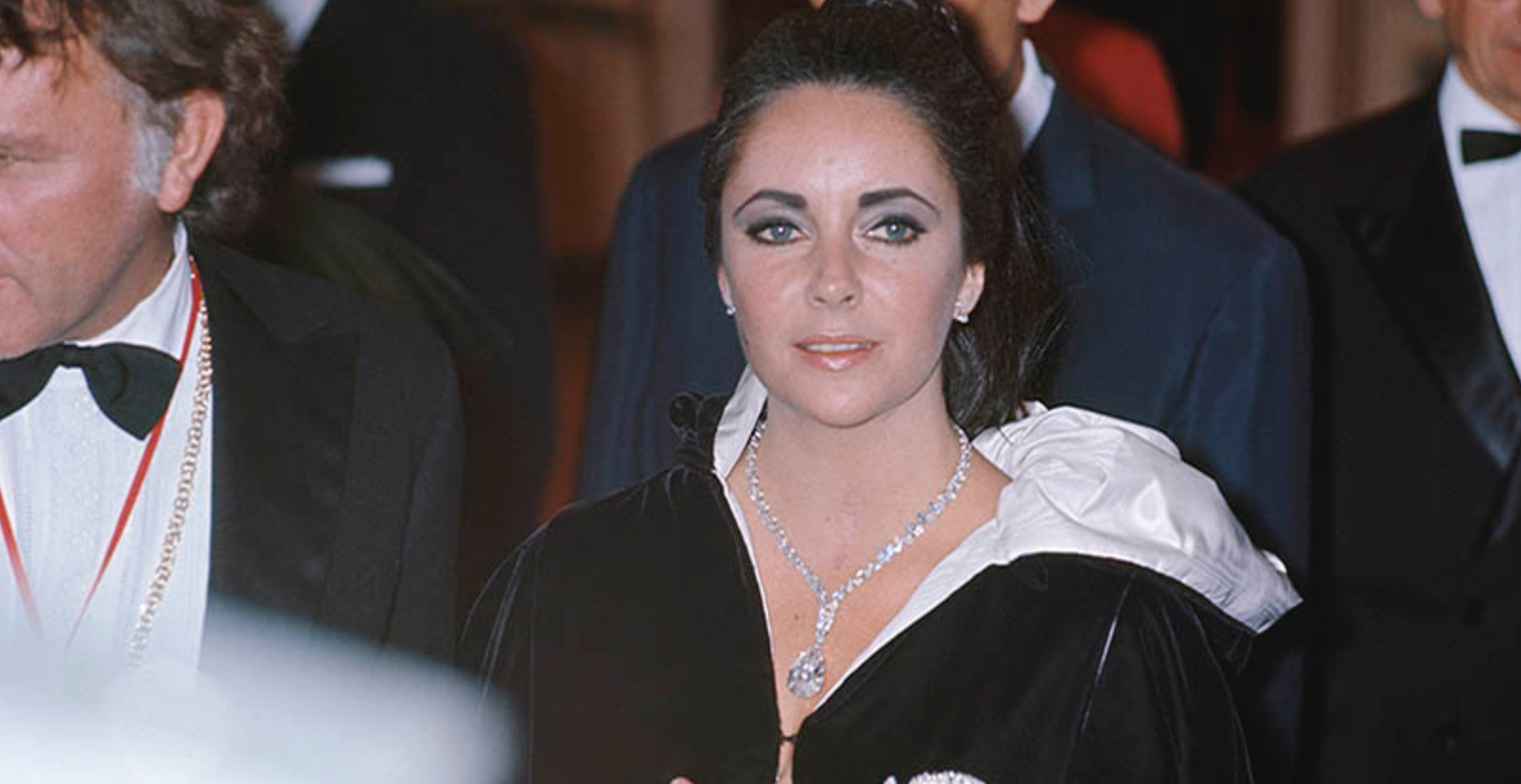 Richard Burton and Elizabeth Taylor arrive at Princess Grace's Scorpion themed 40th birthday party at the Hotel Hermitage in Monte Carlo in November 1969.
Taylor caused a sensation when pictures of her were published wearing the diamond on the Cartier necklace with a black cape decorated with white scorpions.

For 1.1 million Burton carried the day! "Elizabeth Taylor Gets That Peachy Pear" Diamond trumpeted the angels of the New York Daily News. One plithy journaist described the diamond as the size of a peach pit. That's the reason the diamond is described as "peachy" if anyone, like me, was wondering. 
It gave Richard Burton even greater satisfaction when he learned that two of his rivals for the diamond had been the Sultan of Brunei and Ari Onassis. The Greek tycoon had "chickened" at $ 700,000 dollars.

Burton recalled, it all started at an early dinner at an Italian restaurant, an evening he would never forget, as one of "long silences and deadly insults".
Elizabeth trying to break his mood, reached out to him across the table."Come on Richard, hold my hand."
I do not wish to touch your hands," he answered cruelly. "They are large and ugly and red and masculine."
Elizabeth Taylor withdrew her bejeweled hand.
Richard was horrified by his own malignant remark. Now, Elizabeth, being a famous actress and a famous jewelry collector, turned Richard's nasty remarks into her own advantage and made her husband pay dearly for the insult. Insisting that he must really go after the diamond they had both been eyeing, the one owned by Mrs. Paul (Harriet) Ames, the sister of Walter Annenberg, the billionaire founder of TV Guide and the former U.S. ambassador to the Court of St. James.
The 69.42 karats, one and a half-inch long gemstone was considered the largest and most expensive diamond in the world. It was set in a Platinum ring, between two smaller side diamonds.
"It will make my ugly, big hands look smaller and less ugly!" Elizabeth Taylor teased. "That insult ..." Burton wrote in his diary the following day "is going to cost me. Betcha!" And Richard Burton was certainly right about that.
There was a great deal of interest in the spectacular jewel. It was going to be auctioned on October 23, 1969 (identified as Lot 133) by Parke-Bernet Galleries on New York's Madison Avenue. Elizabeth had learned that Aristotle Onassis, the man who had brought out Richard's competitive streak more than any other, had paid a visit to Parke-Bernet to view the diamond, igniting speculation that he intended to buy it for Jacqueline Kennedy.
But it was Cartier who outbid Richard Burton winning the jewel for $1,050,000, the highest amount ever paid for a diamond at that time. Richard was not ready to admit defeat. Elizabeth Taylor tried to mollify Richard, that she didn't really care if she had the diamond or not, that "there was much more to life than baubles," but this only made Richard Burton more determined that Elizabeth gets that peachy pear. He instructed the lawyer to buy the diamond directly from Cartier regardless of the price.
It would take another agonizing twenty-four hours waiting for a call back from New York. Would Richard Burton be able to snatch the diamond from Cartier, winning it back for Elizabeth? The next day, they received a call. The diamond was theirs! For $1.1 million, Richard had carried the day and Elizabeth Taylor gets that peachy pear diamond, newly named the Taylor-Burton Diamond.
Photo Credit: 
Elizabeth Taylor Gets That Peachy Pear and Shows It off To The World!

Reference: Kashner, S. & Schoenberger, N., Furious Love, JR Books, London, 2010.
Return to the top of Elizabeth Taylor Gets That Peachy Pear
Return to Famous Collections
Return to Antique Jewelry Investor Home Page