January Jewel of the Month 2012


Blow Your Trumpets Angels!
SOLD!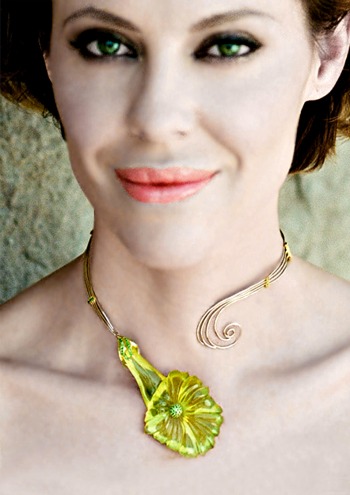 360cts Green Quartz Trumpet Flower Carving
Hermes, the messenger of the gods, might have dispatched Premier Jewel of The Month, accompanied by the sound of trumpets!
Heralding in this New Year, January Jewel of the Month 2012, is the one-off necklace piece and Gemmy's 1st place award winner 2011. Carved by renowned artist and gem carver, artist Alec Stromberg.
Alec lives in the US and has been involved in antique jewelry and carving cameos all his life and when he was living in Moscow, he was involved in the restoration of Peter Carl Fabergé's works.
The construction of the award-winning necklace is made of 18k white and yellow gold and the Trumpet Vine Flower, (Campsis Radicans).
From the list of gemstones, this fine Brazilian Green quartz, weighing 360cts was chosen. The trumpet flower green quartz is be-jeweled with contrasting tsavorite melee, dew-drops of African green garnets from the lake Tsavo.
The Trumpet Flower attracts hummingbirds and butterflies, and a variety of other birds like to nest in its foliage. If you could imagine yourself nestling within this verdant green flower-filled with light, respond to the angel's trumpet call, register your interest, and inquire by completing the inquiry form below. (already sold)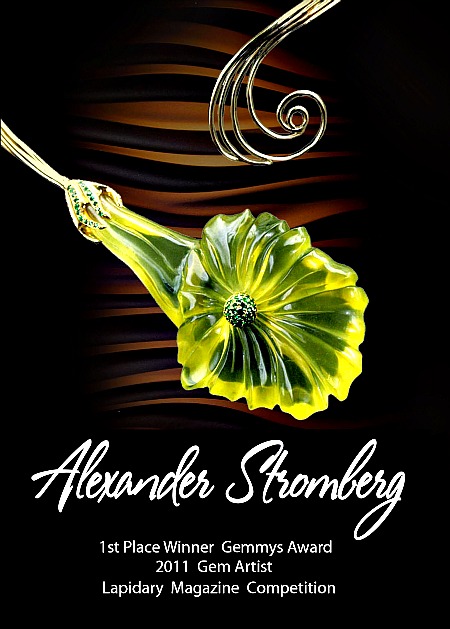 See The Duchess of Windsor Collection...
Return to the top of January Jewel of the Month 2012
Return to Jewel of the Month
Return to Antique Jewelry Investor Home Page