Expert Opinion Service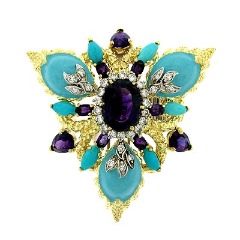 What you'll get from the On-Line Expert Opinion Service for $9.70 US, when you submit  the form below on this page... 
When you Ask an Expert for an Expert Opinion on Antique Jewelry Investor, you start to take control of your Jewelry. You  will learn exactly what you have. This is not an exaggeration. You will also receive  a fast and accurate reply. No waiting round for weeks.
Antique Jewelry Investor has been conceived to give you the tools you need to Invest In Jewelry today.  An Expert Jewelry  Appraisal and Expert Jewelry Opinion are two of those  tools. Discover the power of investing in Antique Jewelry, 20th Century Jewelry and Pearls, just as tens of thousands of others already have. Stop guessing - get an expert to provide an opinion.
Let's take an even closer look at what the service is all about and everything it offers you.... Your opinion wil be assigned to a professional, an expert, to perfectly match your item's  category within 24 hours of submitting the form. This service is also suitable for watch & pocket-watches.
The Expert On-Line Opinion will be delivered to your email account as soon as completion. Please note, Expert Opinions don't  come with a Valuation.
If you want a Jewelry APPRAISAL WITH A VALUATION Click here..
Expert Opinions are specifically designed to avoid the problems many visitors tell me they've had trying to get Jewelry Opinions on-line. You won't need to buy any of those credit things in advance, no impersonal computerized auto-uploads either.
Stop Guessing. Take advantage of our JEWELRY OPINION SERVICE, get a Professional Opinon On-Line like thousands of others already have and take control of your Jewelry.

An e-mail address is necessary to process your request. We do not sell, rent or exchange names or addresses with other companies.
Return to the top of Expert Opinion Service
Return to Antique Jewelry Valuations
Return to Antique Jewelry Investor Home Page