February Jewel of the Month
15 ct Victorian Bohemian Garnet Ring

SOLD

2009
February Jewel of the month for sale is a beautiful Victorian Bohemian Garnet Ring ablaze with color!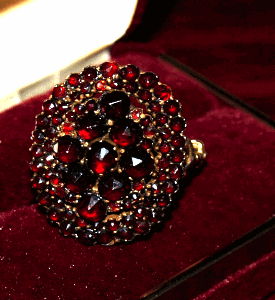 The best quality bohemian garnets are a fiery red color like glowing coals, and this ring has the most FIERY Antique garnets in any ring that I have ever seen.
This heirloom quality ring that started life in the Victorian era will set your heart ablaze, with its deliriously beautiful old rose-cut Bohemian garnets in a closed setting.
February jewel of the Month is also hallmarked on the inside band and the garnets, the fire from these rose-cut garnets is just incredible! And not just from one or two of the stones either; each one is ablaze with color!
Bohemian Garnets were at the height of their popularity in the 19th century Victorian era. Today's antique jewelry connoisseurs still favor bohemian garnet jewelry for the fire and intensity of its blood red garnets and its timeless romanticism.
Garnets mined in Bohemia are of the variety called pyrope (from the Greek words pyr for "fire" and ops for "eye"). The Bohemian garnet's color ranges from fiery-red to ruby-red. This rare, high quality garnet is only found in the Central Bohemia region of northern Czech Republic.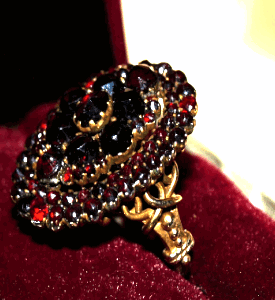 Garnet is the birthstone stone for January. See gemstones meanings here! This antique Victorian ring measures 2.5cm north to south and 2cm across. The shoulders of the band are ornate and interesting. This ring is so wearable today.
This investment quality ring is size 6 1/2 US or M 1/2 and is in excellent condition despite its age.
Have You Seen This Month's Jewel of the Month?
Return to the top of February Jewel of The Month
Return to Jewel of the Month
Return to Antique Jewelry Investor Home Page