July Jewel of the Month 2010
Tiffany Diamond Engagement Ring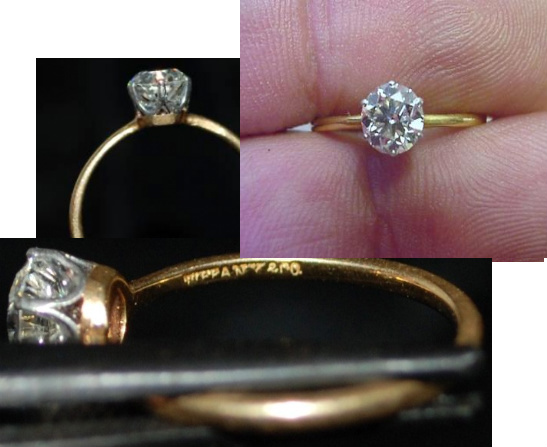 Tiffany Diamond Ring
Drum roll, please....The curtain raiser for July Jewel of the Month 2010 is a scintillating Tiffany & Co. Diamond Engagement Ring!
Crafted by iconic Tiffany & Co, the fabulous Jewelry House evocative of glittering diamonds, luminous pearls, rubies, and emeralds. Their table-turning jewels can raise spirits from the dead!
The ring for sale is in good condition considering its vintage age; Tiffany & Co introduced the classic engagement ring in 1886.
Tiffany & Co.  A Triton Among the Minnows would never have achieved its extraordinary success, if not for the rising middle-class metropolitans at the turn of the 20th century with "new money" to burn.
The ring is stamped "Tiffany & Co." and it corresponds to other Tiffany items of the time and complies in every way - the Hallmark, the Craftsmanship, and of course, Tiffany's renowned roar quality!
The diamond is of old European cut with a small open cutlet and is of "very good cut" and symmetrical by today's GIA standards. It sparkles like crazy with a brilliance like star-light!
Diamond is 0.57ct, VVS2 clarity and J-K color (it still looks pretty white to me, even compared to the E-F colored diamonds).
The diamond is set in platinum on a 19k yellow gold shank (acid tested) which is stamped "Tiffany & Co." The platinum prong setting is sure to stand the test of time even longer; the gold band is in no way worn down and is quite thick sideways although it is slim). Ring size approximately 5.75 - 6. and best of all July Jewel of the Month 2010 has been appraised by Greg Taylor GIA (Est. 1975) and the 4c's of the Diamond - Guaranteed!
To reserve this Jewel-of-the-Month  complete the order form below. 
Return to the Top of this Page
Return to Antique Jewelry Investor Homepage