May Jewel of the Month
Persian Gulf Pearl Necklace
ALREADY SOLD
Do You Have a Question About May-Jewel-of-the-Month?
For May Jewel of the Month we have..... Natural Pearls!
And a full strand of
Natural Pearls from the Arabic/Persian Gulf! The unique mix of fresh and saltwater that surrounds Bahrain in the Persian/Arabic Gulf, is one of the secrets behind the special luster and brilliance of the Arabian/Persian Gulf pearls.
The Persians or Iranians call this stretch of water, the Persian Gulf and the Arabic people call it the Arabic Gulf; it is the same Gulf of nutrient rich sea-water.
From superior quality cultured Mikimoto pearls, to the large voluminous south-sea pearls, there's nothing, that compares to the "real thing"...100% Natural Pearls!
Enjoy this lovely strand of Persian/Arabian Gulf pearls..........
Pearl Necklaces come in different size lengths:
Rope Necklace: measures 45in long
Collar Necklace: measures 12in to 13in long
Choker Necklace: measures 14in to 16in long
Princess Necklace: measures 17 to 19 inches long. (The most common length for pearl necklaces)
Opera: measures 28in to 34in long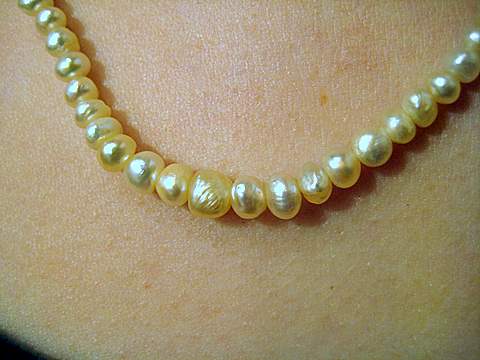 Graduated Natural Pearl Necklace
Type of Pearls: Natural Persian Gulf Pearls
Number of Pearls: 199
Princess Length: 18 3/4 inches (18 inches is considered the classic length for pearl necklaces. An excellent choice if you're not sure which strand length is most appropriate).
Total Carat Weight: 37.83 carats (7.56 grams)
Color: Light cream to cream
Shape: Semi-baroque and baroque
Dimensions: Largest pearl measures approximately 5.5 X 4.7 mm
Clasp: 18K Yellow Gold
Certificate of Authenticity



Would You Like To Sponsor Ths Website Through Advertising Sponsorship?
More Details....
Return to the top of May Jewel of the Month
Return to Jewel of the Month
Return to Antique Jewelry Investor Home Page