November-Jewel-of-the-Month
SOLD

2008
Missed out on November-Jewel-of-the-Month? Subscribe to my newsletter and keep updated with all the latest Antique Jewelry news and additions to this Web site. Sign up here!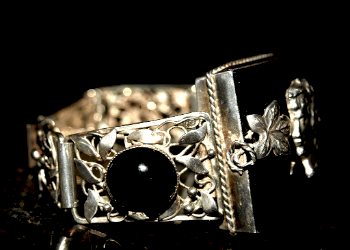 November-Jewel-of-the-Month comes to us from the Art Nouveau era - an exquisite crafted Art Nouveau Silver Bracelet.
Learn All About Art Nouveau Jewelry Here!
This style of Premier Jewelry is certain to attract both admiring glances and even jealous ones! Antique Silver jewelry is also very popular and investment worthy.
Advertise in the Premier Jewelry Catalog. Details Here.
This fabulous Art Nouveau Bracelet was made in the 1890s, when mother earth reigned supreme, (and according to the Mayan & Hopi people around the world, will again soon) and just about everybody was completely besotted with Botany, including the giant of jewelers, Rene Lalique who would not work unless surrounded by a room full of plants and flowers. 
Black stones were popular during this period and in keeping with the period we have two round jet black cabochons, (not french jet which is glass) bezel set on either side of the front of the central station, which is astonishing. You can see it is the desirable WHITBY JET and not French Jet (which is black glass).
There are five stations in total in this Bracelet that feature on our November Jewel-of-the-Month, each one exhibiting the most beautiful flowing vine and leaf open-work with tiny sterling silver flower buds. This large square cut jet is 3.3 cm by 3.3 cm and is superbly calibrated and mounted in sterling silver. The jet is in immaculate condition and free from any wear or grazes, even under magnification. 
The large rectangular clasp on this personal ornament adds to the overall harmony of this piece. This Bracelet has clearly been crafted by a master-craftsman of the Nouveau era and the clasp is ornately decorated with more floral details in keeping with the design. The inside of this piece is just as perfect as the exterior. The original safety chain is still attached.
From end to end, this bracelet measures 20 cm. It is in excellent condition, despite the fact that it is over 110 years of age! This beautiful example of Art Nouveau Jewelry will add value to any collection and beauty to your wrist! 
---
Click here to see this months Jewel-of-the-Month!
Return to the top of November-Jewel-of-the-Month
Return to Jewel-of-the-Month
Return to Antique Jewelry Investor Home Page