The Sienna Jewelry Armoire
The Sienna Jewelry Armoire by Powell furniture combines quality, class and Continental charm and is perfect for any size jewelry collection.
Purchase The Sienna Armoire At The Jewelry Armoire Shop Here At Antique Jewelry Investor (Coming Soon).
Jewelry armoires are a luxurious, yet practical way to store your jewelry and preserve your favorite pieces for many years to come.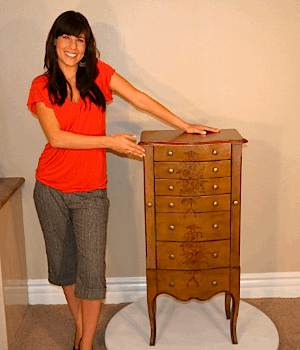 Click here for an introduction to the Jewelry Armoire.
Part of the magic of this particular jewelry armoire is due to the stylish charm imparted by the raw sienna finish. It is a sought after accessory in homes where a natural color tone is preferred.
This elegant freestanding armoire, adds to the decor by providing a warm feel to the furniture, which is further highlighted by the beautiful hand-painted blossoms that embellish the top, sides and the bow-shaped front of the drawers.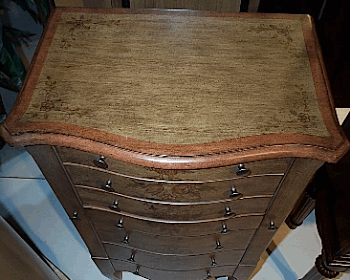 There are seven fully lined drawers and 2 swing doors also fully lined, that will organize a sizable collection of jewelry and accessories.
This jewelry armoire also has the added feature of a large mirror, that's built into the top of the unit, for easy and convenient viewing when putting on jewelry.
The top section is divided into quarters and contains a whole section of rings pads, which is very useful.
The side doors of the sienna swing open to reveal a total of 8 hooks to hang your necklaces and chains.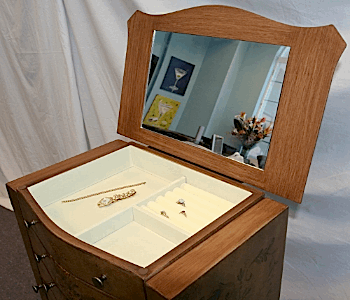 Jewelry storage and organization are made easy by way of 3 divided drawers and 2 large undivided fully lined drawers perfect for larger pieces, parures, and accessories.
This unit is shipped completely assembled which is a great bonus, the only thing you do need to do, is simply attach the mirror (and it  is simple to attach).
The dusky, raw sienna finish combined with the elegant hand-painting and stylish design makes the sienna jewelry armoire practically irresistible.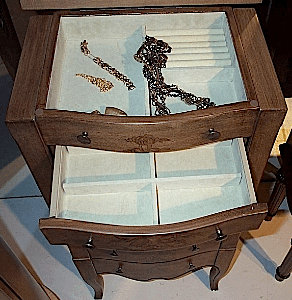 The Sienna Armoire  is one of the most popular Jewelry Armoires on the market!

Return to the top of Sienna Jewelry Armoire
Return to Jewelry Armoire page
Return to Antique Jewelry Investor Homepage