December Jewel of the Month 2010
GOLD AND ENAMEL 'AUTUMN' PENDANT, RENÉ LALIQUE, CIRCA 1898-1900
Sotheby's Auction - 9th December 2010
Duchess of Windsor Spectacular Flamingo Clip Has Been SOLD ..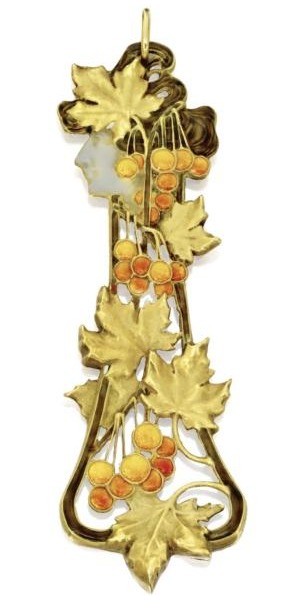 GOLD AND ENAMEL 'AUTUMN' PENDANT, RENÉ LALIQUE, CIRCA 1898-1900
Lot Sold. Hammer Price with Buyer's Premium: 74,500 USD
Magnificent Jewels
Location: New York
Lot 394
Date: 9th December 2010
Auction Time & Details
We adore this pendant! Not only is this a work of quintessentially, Art Nouveau Style it echoes the season of gender in the iron age;autumnal in galactic time, in which the old frameworks that supported a male -centric world-view, is in melt-down.
RENÉ LALIQUE, ( 1860 - 1945) who crafted this magnificent pendant was a master jeweler and the creator of astonishing Antique Gold Work Techniques and highly original pieces, like this magnificent jewel of the month auctioned in December by Sotheby's in New York.
The Pendant is an openwork design of a female head in profile applied with matte gray/green enamel to symbolize the dying year, her hair in brown enamel is entwined with branches of cascading leaves in gold and autumn fruits of fiery orange enamel, and pale creamy pink, it is signed with Lalique, maker's mark, and the French assay mark.
The tan leather box is embossed with a design of falling leaves, the silk lining of the case with gilt mark: R. Lalique / 20 Rue Thérèse / Paris.
The Duchess of Windsor Collection...
Advertise Your Jewel in Arabic & English Language ...

Return to the top of December Jewel of the Month 2010
Return to Jewel of the Month
Return to Antique Jewelry Investor Home Page