Famous Engagement Rings

Lady Diana's




Engagement Ring
The stand alone thing about famous engagement rings are the stand alone women and English monarchs who wear them.  This section of the website, is specifically dedicated to betrothal rings and the strong women who were the inspiration behind them.
As an aside, while I was researching for this page, to my surprise and disappointment, noone entry could be found (September 2010) in the "cool visual thesaurus tool" for the collective noun - "women". An entry for Woman but no Women! According to the language tool, SHE in company, hand-in-hand, arm-in-arm, side-by-side does not exist.
See other remarkable collections of Jewels Here
The Duchess of Windsor collection never fails to intrigue the world...
One of the most famous engagement rings is the celebrated engagement ring worn by Lady Diana Spencer.
See The Duchess of Cornwall's Engagement Ring Here...
Lady Diana Spencer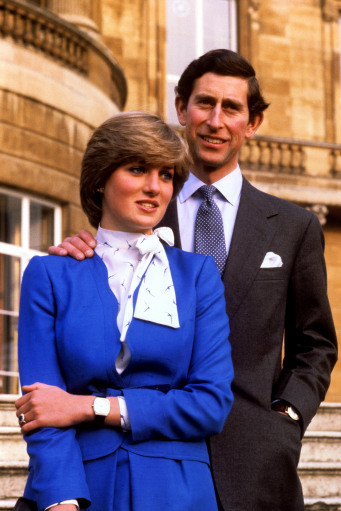 Lady Diana & Prince Charles Engagement Photo
To view an engagement ring similar to Lady Diana Spencer's sapphire and diamond engagement ring See November Jewel of the Month 2009...
The late Diana, Princess of Wales was born Lady Diana Frances Spencer on 1 July 1961 in Norfolk. Lady Diana Spencer married The Prince of Wales at St Paul's Cathedral in London on 29 July 1981.
Family was very important to the Princess, who had two sons: Prince William and Prince Henry (Harry). After her divorce from The Prince of Wales, the Princess continued to be regarded as a member of the Royal Family.
Diana, Princess of Wales died on Sunday, 31 August 1997 following a car crash in Paris. There was widespread public mourning at the death of this popular figure, culminating with her funeral at Westminster Abbey on Saturday, 6 September 1997.
Even after her death, the Princess's work lives on in the form of commemorative charities and projects set up to help those in need.
Photo By Kind Courtesy:
http://www.royal.gov.uk/Home.aspx
'History of the Monarchy'
The Engagement Ring
When Lady Diana Spencer accepted the engagement proposal, a selection of engagement rings was presented for her consideration by Garrard Jewellers. From a list of gemstones, Diana choose an 18 ct gold oval BLUE SAPPHIRE Engagement Ring.
The accepted cultural "norm" that Diamonds are the "proper" engagement gem was adopted as a result of DeBeers ingenious marketing.
The Sapphire in Lady Diana's engagement ring weighed approximately 7-9 carats (not 18 carats) and was surrounded by 14 small diamonds in an elegant cluster setting.
Unlike many famous engagement rings, when the public must hypothesize about an engagement ring's price and jewelers are sworn to secrecy about their client's privacy, the public knew the cost of Princess Diana's engagement ring instantly. It was chosen from the regular Garrard catalog and therefore could be purchased by anyone, for the price of 28,000 British pounds, or the equivalent of $65,000 (at 1981 exchange rates).
Prince William, glowing with pride in this post-engagement interview, gave his beautiful fiancée Kate Middleton, the engagement ring of his mother Diana, Princess of Wales - on November 17th, 2010.
Britain's Prince William and Kate Middleton were married on Friday April 29, 2011 at Westminster Abbey in London.
---
Reference:
http://engagementrings.lovetoknow.com
'Princess Diana's Engagement Ring'
Return to the top of Famous Engagement Rings
Return to Antique Jewelry Investor Home Page