Great Grandma's Charm Bracelet
by Jeanette
(Harrisonville Mo USA)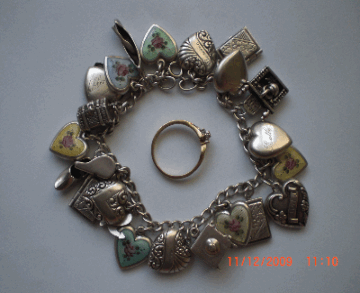 On my sterling silver bracelet above, every charm is marked sterling. I know the bracelet chain itself is sterling though it's not marked. It is very heavy.


It was given to me by my grandmother. It had been my great grandmother's bracelet. She received it from the staff she worked with at the muehlebach hotel coffee shop in downtown kansas city.
My mom says it was given to my great grand mother for her birthday. Every single charm has the name of the women who purchased the bracelet for her. It has 23 charms. I was wondering if you could tell me about the bracelet itself?
For instance, who made this kinda bracelet and is something I should get insured? I really love the piece even more than the
hallmarked silver locket
that cleaned up beautifully using
foil & toothpaste, no-chemical All NATURAL silver cleaner,
and presented earlier to the site for an opinion.
Could you please advise as I have seen charm bracelets not as nice and not with as many charms that range from $148-$375 on ebay.
The higher end of the spectrum are the ones closer in quality to the one I have if not equal and I was wondering are the people on ebay crazy to ask such a price or is this accurate and could mine be worth just as much because if so, I am getting it insured and only wearing this bracelet on special occasions. I have included a picture. Thank you for your help on this.
Jeanette