Antique Diamond Engagement Rings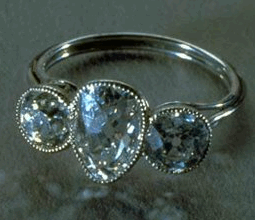 Antique diamond engagement rings have rawrr quality. There's no denying it. The gorgeous  20th century diamond ring on the left, once sparkled on the wedding ring finger of a one of the Passengers On The Titanic and it still sparkles for us today.   Behind this ring, like all antique engagement rings, is  a most poignant  love story,  if  the ring  could only speak now. 
Although articles often conflicting about the sinking of the Titanic ship are  in no  short supply, the love story that embodies this jewelry, has been  lost in the mists of time,  and will never be known. The ring holds the secret. 
Does Your Antique Ring contain a secret? Are the old cut diamonds that were cut by hand bursting  to tell their story?  Demand is increasing for old cut diamonds because  old cut stones have a personality all of their own. These gemstones take you into a deeper,  more authentic reality in which the famous De Beers slogan "diamonds are forever" has  even more special significance.
Antique engagement rings are not for the shrinking violets or modern-day Cinderellas. Antique gemstone engagement rings can be seen on the wedding ring fingers of the rich and famous  including the British Royal family. See Camilla Duchess of Cornwall's Engagement Ring.
Apart from the gemstones, antique gold jewelry offers an extra store of value to consider and with no dirty gold mining  involved.
Every antique gemstone ring & 20th-century engagement ring has a story to tell. Would you love  to document your story here?  We invite you to share your love story  here on this page with other romantic souls  who share your passion for antique jewelry and romance.  Tip:  a photo of your ring is also a great way to lend support  for  insurance purposes. 
The form below is simple to fill out. It's your unique story - as only you can write it.  Make your one in a million engagement ring live on like the Titanic, here on the most respected authority on Antique Jewelry and pearls. Let's get started 1, 2, 3......
Still need further  motivation  to write your love story?  Please  watch  the video  by Chris Woods as he sings about his soul mate and true love and the One In a Million  Diamond Engagement Ring.
Simply start typing,  and tell us about  your  diamond engagement ring story in the box below...
Antique diamond engagement rings all have a story?
Tell us  your story....
Your Engagement Ring Story
Tell your own engagement ring story here on Antique-Jewelry- Investor.Com.
Don't be shy here; ) Your unique story will appear on a Web page exactly the way you enter it here. You can also upload up to 4 photos of your ring.

Return to the top of Antique Diamond Engagement Rings
Return to Passengers on the Titanic
Return to Antique Jewelry Investor