April Jewel of the Month 2011

Art Deco Diamond Ring
Sold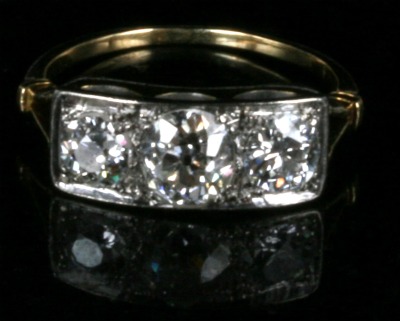 Handmade Three Stone Art Deco Diamond Ring
Diamonds are a girl's best friend for April Jewel of the Month! And this Antique Diamond Ring is handmade and hails from the Art deco era of the 1920's-30s. The design is strong and feminine and typical of the decadent deco era, constructed using Platinum, the strongest of the strong precious white metal, which has the effect of emphasizing the three gorgeous antique cut diamonds, while providing a protective surround for them.
The band is comprised of 18 carat yellow gold and contrasts beautifully. The Three Antique cut diamonds have a total carat weight of 1.43 carats! And do these diamonds sparkle under candlelight!
Price $5,850
Available from Kalmar Antiques Now Sold!
Contact Here to Feature Your Jewel on Jewel of the Month on Antique Jewelry Investor...
See Camilla's, The Duchess of Cornwall's Art Deco Engagement Ring...
*** Market Intelligence Tip: Gold and silver, as the principle monetary metals, as well as platinum and palladium (secondary monetary metals) will be part of the formula that determines the fair value of any future global currency.
Resource: http://www.marketoracle.co.uk/Article27347.html
Advertise on Jewel of the Month in Arabic & English Language ...
See This Month's Jewel of the Month
Return to Jewel of the Month
Return to Antique Jewelry Investor Home Page