How to Measure Ring Size
A gorgeous ring still has to fit!  Here are five  ways  how to measure ring size with two at-home-can-do ring size  measurement steps.  

How to measure ring size is a simple process. Here are Five ways  to find your ring size:
Place a ring that fits you on a professional ring sizer mandrel and record your size.

Go to a Jeweler for professional ring sizing.

Find an approximate fit with a ring sizing chart. 




SEE BELOW FOR INSTRUCTIONS.

Use a finger ring size strip. 




SEE BELOW FOR INSTRUCTIONS.

Make sure to measure your finger at room temperature as cold and hot weather can cause your fingers to constrict or swell.

How To Measure Ring Size
To Ensure A Perfect Fit
Need to find an International Ring Size Converter? Click HERE.
Need  to find a Diamond Carat Size Chart? Click HERE 
---
Method 3. Use the Ring Sizing Chart
Use a ring that perfectly fits you to determine your ring size. Place your ring over the nearest size circle. The inner edge of the ring should align with the outer edge of the circle. If your ring appears to fit between two sizes, buy the larger size.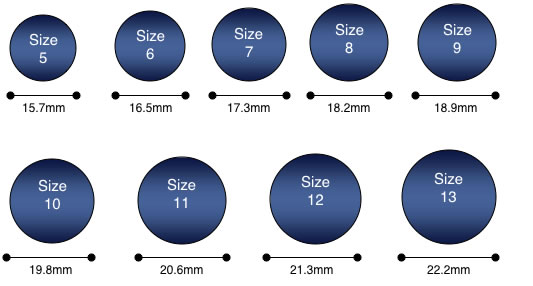 Method 4. Using a Finger Ring Size Strip
To make your own finger ring size strip, print and cut the sizing strip below. Insert the narrow end of the ring sizing strip through the "cut here" slot. With numbers on the outside, place the loop around your finger, and pull until the fit is snug but comfortable. 


Taking advantage of ring size charts is the smart and easy way how to measure ring size on the sure ground without ever leaving port.

Can I Resize or Not?
Once you know how to measure ring size you might want to know if your ring can be resized or not.
Most jewelers will be only too happy to adjust a ring one or two sizes in either direction. More extreme adjustments may impact the look or interfere with the integrity of your jewelry. Some complicated settings may not allow for resizing. See Ed's comment on the Victorian Buckle Ring, Nina was thinking of buying HERE.
Increasing the size of a gold or silver finger ring typically requires a gently hammering of the ring around a sizing shaft. This will cause the shank of the ring to thin slightly. In some rings, the result will not be perfectly round. Some jewelers will not resize platinum rings because of platinum's density and strength.
To increase a ring more than one full size or to adjust a ring with stones, your jeweler may prefer to make an incision in the ring to remove or insert extra metal. This adjustment may leave a visible seam or an invisible weak point, but a professional jeweler can position flaws out of sight.
If the ring to be resized is an Antique Wedding Ring, it's  advisable to use a jeweler with experience in handling Antique Jewelry.
One Last Tip on Ring Sizes: When you are  Traveling with Jewelry to a sea-side destination, don't wear your rings to the beach;  they might sparkle like crazy in the sun, but they also slide off your fingers in the water.
Reference:
ebay, Reviews & Guides
http://pages.ebay.com/buy/guides/ring-sizing-guide/#1
Return to the top of How To Measure Ring Size
Return to Design Your own Engagement Ring
Return to Antique Jewelry Investor Home Page