June Jewel of The Month 2012

"Aurora Australis"
 Gem of a Black Opal!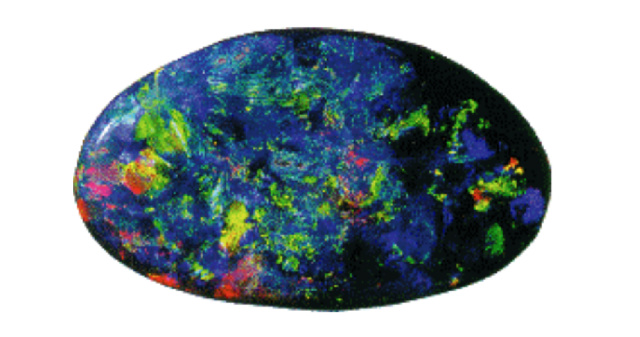 Aurora Australis Found in 1938
Curtain raiser for June Jewel of the Month 2012 is Gem Opal - Aurora Australis Opal. This beauty that calls Australia home is considered to be the best black opal in the world.   And if you too are wondering what on earth  "Best Opal" actually means - well, it's all about COLOUR!   To call an Opal,  "black"  is totally misleading.  The old-timers down-under called it  - "Colour" and I think  "colour"  is  best and far more descriptive of this gem's spectacular optical properties.
June Jewel of the month 2012 was found in 1938 at Lightening Ridge in New South Wales, Australia, the world capital  of black opal. The opal rushes of the past have left Lightning Ridge in Walgett Shire with a multi-crater crust honeycombed with tunnels below the surface.

Visual observation is all that's needed to identify black opal. The colors are so strong and brilliant. The reverse of the Opal is normally dark grey but never true black.  Some of the pattern of colors, this opal displays are:  "Pinfire" "Harlequin Flash" or "Rolls". 
Aurora Australis opal that features the Harlequin Pattern was purchased by Altmann and Cherny, who cut and polished the opal into its oval shape. The opal's rarity is due to its size and vibrant color play. It weighs 180 carats and measures 3 inches x 1.8 inches. This gem opal  is valued at AUD$1,000,000.
June Jewel of the Month 2012  - "The Aurora Australis" is owned by Altmann and Cherny and is on permanent display in their Sydney showroom at 19 - 31 Pitt Street, Sydney. 

See The Duchess of Windsor Collection...
Opal is considered a precious gemstone and  was chosen for the centrepiece in  many a fine antique victorian pendant, ring or bracelet. Queen Victoria had a soft spot for Australian Opal and everything Queen Victoria liked her loyal subjects followed. The frames of these pieces, are usually made of precious metals. Some things, like the green of the earth - Gold - don't change over time.
Gold and silver, as the principle monetary metals, as well as platinum and palladium (secondary monetary metals) will be part of the formula that determines the fair value of any future global currency. http://www.marketoracle.co.uk/Article27347.html
Pilot Guide to Investing in Gold Jewelry...
Advertise your Jewelry business or related service in the Middle East. Did you know that the Middle East is now amongst the top three largest consumers of jewellery in the world? China and India are at the top. 
Photo Credit: Lightning Ridge - Darren Jones
https://www.flickr.com/photos/photojour/4425408175/

Return to the top of Return to Jewel of the Month
Return to Antique Jewelry Investor Home Page