March Jewel of the Month 2012
Aquamarine Amphitrite Cameo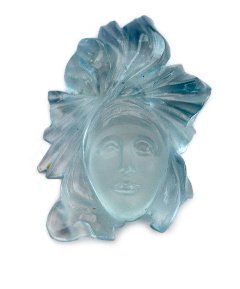 Cameo Carving - Amphitrite in Aquamarine Gemstone
Meet March Jewel of the Month 2012, birthstone Aquamarine. Sea-goddess Amphitrite, the legend from the stars, descended to terra firma, in Natural Aquamarine gemstone.
Ancient greek deities are the subject of many of the fine antique cameo and this sea-goddess cameo appearing on March Jewel of the Month 2012 was carved by gemmy's award winner - Alec Stromberg.
In ancient Greek mythology, Neptune, genius of the ancient greek water deities, having paid court to Amphritite, (Neptune was perceived riding a dolphin, while the monsters of the deep gamboled about his path) breathed a soul into stone, immortalized Amphitrite, mother of Triton, goddess-of-the-sea.
As to the fate of the dolphin Neptune was riding, having won her, (Amphitrite was Neptune's wife) the dolphin was rewarded by placing him in the stars in the heavens.
Immortalize your Amphitrite in March 2012! Add this gemmy carving to your collection! This rare collector's gemstone cameo can be simply mounted in a gold frame or can be a centerpiece for a bigger piece of jewelry, depending on your taste.
Alec, lives in the US and has been involved in antique jewelry and carving cameos all his life and when he was living in Moscow, he was involved in the restoration of Peter Carl Fabergé's  works.
Price: POA
Weight: 26.1 ct

Return to the top of March jewel of the Month 2012
Return to Jewel of the Month
Return to Antique Jewelry Investor Home Page