March Jewel of the Month 2009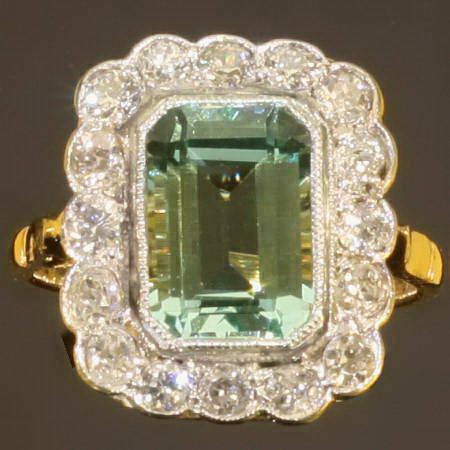 18K Old Mine Cut Diamond Antique Victorian Engagement Ring
Price: $2830.00 US 
Sold (2009)
March Jewel of the Month comes from the family of antique diamond and gemstone engagement rings...this remarkable ring dates to the late Victorian era ca. 1890. This era was known as the aesthetic period in Victorian Jewelry. Diamonds, gemstones, and femininity were center stage.
The period produced a sparkling display of antique diamond engagement rings and betrothal rings. An engagement ring is a finger ring given by a man to his fiancée as a token of a marriage engagement, in the manner of the earlier betrothal ring, and indistinguishable in form or style.
In recent years, antique gemstone engagement rings are rapidly gaining in popularity.
With the advent of Thomas Edison and electric light, social gatherings were at their peak. Sparkling diamond and gemstone engagement rings and diamond jewelry could be admired at the fullest.
A woman appearing fingers glittering with diamonds and gemstones reflected the height of fashion.
This 1890's classic example is comprised of 18 KT bi-color gold (yellow and white) most of this ring is comprised of rich yellow gold.
Set in white gold with precious gemstones, in keeping with the period are precious beryl and old mine cut diamonds, the diamonds of which have so much personality.
Silver settings were created to enhance the diamond's white sparkle.
Boasting 16 glorious old mine cut diamonds bursting with life with a total estimated weight of approx. 1.00 crt. Old mine cut diamonds are well-loved by antique jewelry connoisseurs and much sought after. This particular old-diamond cut is especially renowned for its' incomparable fire.
The central stone is precious beryl with an estimated weight of approx. 2.75 crt and is the most remarkable color.
March Jewel of the month, coincides with the Aquamarine gemstone which is the birthstone for March.
March Jewel of the Month is described as blue-green color and referred to as the sea water stone. Green beryl is called emerald and blue beryl, aquamarine. The precious beryl in this ring truly is an astonishing color.
The color of this bewitching gem is somewhere between a dark aquamarine color and a light emerald color, we are not  sure if this should be called an aquamarine or an emerald!
The ring is size: Size US 5½ , Size UK: K½ and Continental: 51 & 16¼ Resizing: It is our pleasure to resize the ring for you (if needed) at our expense.
Only for extreme resizing, we have to charge.
Shipped first-class from Adin in Belgium.
Return to the top of March Jewel of the Month
Return to Jewel of the Month
Return to Antique Jewelry Investor Homepage