September Jewel of the Month 2011

Cartier "Tutti Frutti" Bracelet
A Spectacle of Colour Compositions!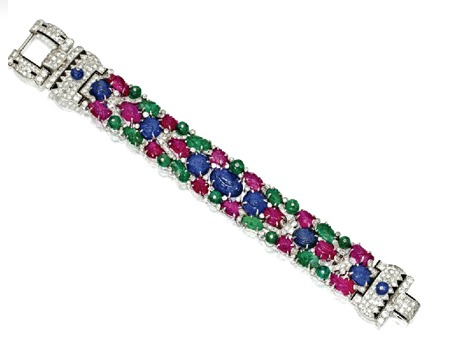 CARTIER "Tutti Frutti" Bracelet Circa 1928
For September Jewel of the Month 2011, Antique Jewelry Investors, passionate about Art Deco Jewelry will discover one of Cartier's rarest works, in an exquisite "Tutti Frutti" bracelet made in the late 1920's, to be  auctioned at Sotheby's September 20th 2011. 
Originally, Cartier made jewelry of enamelled gold set with gemstones which attracted prestigious clientele, including French Royalty,  King Edward VII & King Edward VIII.
Cartier Panther Bracelet That Roars Quality
And Who can forget the  Cartier Panther Bracelet created for the love of Wallis Simpson?
Among the gifts, King Edward lavished on Wallis Simpson were the signature 'Great Cats' commissioned from the House of Cartier. 
Jewelry  speaks when words might fail us. The Leopard is a member of genus - Panthera - the Great Cats - King of the Forest.  One criterion of the "big cat" which includes the four members of genus Panthera: the tiger, lion, jaguar, and leopard, is that Panthera genus Cat has the distinction of "roar" quality. The only cats in the cat family that roar. 
If the one  trait common to all the Great Cats,  is their    Roar power,  could it be,  that the Big Cats, Edward placed into the hands of the woman he adored,  be an expression in forever abiding Jewellery form, that silently roars,  Edward VIII,  whatever,  was King?
Cartier also borrowed from India's ancient tradition of engraving colored gemstones with flowers and leaves. From these carved rubies, sapphires and emeralds, the jeweler created colorful compositions in a style that came to be known as "Tutti Frutti."
This style reached its pinnacle with the famous Hindu necklace commissioned by Daisy Fellowes in 1936. She had an especially pronounced liking for Hindu-style jewellery, as exemplified by the grand necklace that had all ready been put on display by AWDC (Antwerp World Diamond Centre in Belgium) in the course of the previous exhibition. She wore this jewel only once, at the masked ball of Carlos de Beistegui in Venice in 1951.
Other creations in the same vein were owned by Mrs. Cole Porter, who was a great fan of Tutti Frutti bracelets and clips.
Whether one is drawn to fine gemstones or signed jewels, Sotheby's - Important Jewels - auction on the 20th Sep 2011 10:00 AM in New York, offers enticing options.
Reference:
1. http://www.cartier.com/tell-me/inspiration/the-magic-of-color-intro/the-magic-of-colors/tutti-frutti#/tell-me/inspiration/the-magic-of-color-intro/the-magic-of-colors?indexContent=0:/tell-me/inspiration/the-magic-of-color-intro/the-magic-of-colors/tutti-frutti
2. http://www.diamonddivas.be/index.php?id=58

Return to the top of September Jewel of the Month 2011
Return to Jewel of the Month
Return to Antique Jewelry Investor Home Page