Identifying Costume Jewelry 
Part 2
Identifying Costume Jewelry by Designer Part 2 is a continuation of Identifying Costume Jewelry Part 1 for the enjoyment of all vintage costume jewelry passionistas.
Stanley Hagler: 1923-96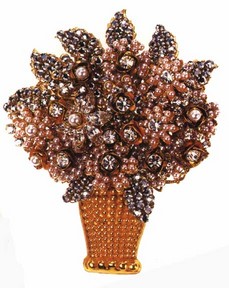 Stanley Hagler clients were the elite from all over the world. He was in business from the 1950s to 1996. Famed for her legendary jewelry collection, Wallace Simpson, Duchess of Windsor, enjoyed wearing fine costume and faux pieces.
Hagler's first piece, a gold plated bracelet made in the 1950s was designed for the woman whose husband, King Edward viii, of the British Royal family, famously gave up the British throne for her.
From his earliest creations for the Duchess of Windsor, his jewelry combined contemporary design with antique parts. He used the finest materials, handblown glass, Swarovski crystals and Russian gold plated filigree. His pieces look equally good from the back. Mr Hagler won the prestigious Swarovski Design Award 11 times! He also created outstanding Costume Jewelry Christmas Tree Pins.
Three designers were associated with the company: Stanley Hagler from the 1950s, Mark Mercy from 1979 and Ian St. Gielar from 1989.
Purchase Swarovski Jewellery
Trifari: 1918-present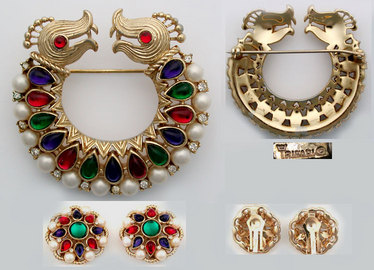 Trifari has long been one of the United States most important costume jewelry makers. Trifari was born in Naples in 1883 and arrived in new York in 1904.
Part of Trifari's enduring success has been built upon the glamorous clientele and prestigious publicity. More recently, Madonna wore Trifari in the Hollywood movie, Evita. All Trifari pieces are collectible but among the most collectible are the Jelly Belly figural pins and Crown pins (especially those designed by Alfred Philippe during the 1940s).
Much of Trifari's success was due to the Frenchman, Alfred Philippe, who joined the company as its chief designer in 1930. Trifari produced outstanding jewelry in heavy sterling silver, often with luxurious vermeil (gold plate over silver). Trifanium, a non-tarnishing gold-finish alloy was named after the company.
When identifying costume jewelry by Trifari look out for examples incorporating the plastic: Lucite, which closely resembles rock crystal and was used in Trifari's Jelly Bellies.
Examples also include pressed or moulded glass, high quality milky colored pastes, that imitated moonstones and chalcedony and superb faux pearls. Trifari's flower, leaf and fruit pins are a collecting field in their own right.
Prices are determined by weight, contrast of colors, intricacy of workmanship and the degree of naturalism.
Vendome: 1944-79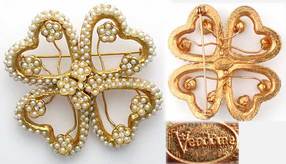 Vendome Costume Jewelry is identified by its' fine quality materials and excellent craftsmanship with elegant and highly innovative design.
Named after the Place de Vendome, the center of the Parisian haute jewelry trade, Vendome first appeared as a mark on charm bracelets and faux pearl jewelry.
In identifying costume jewelry by Vendome, you will notice that it is characterized by the use of high-quality materials: silver and gold plated or gold toned metals, crystal faceted beads, Swarovski Crystals and clear and colored Lucite and lustrous faux pearls.
Have You Seen the Jewel of the Month Yet?


Return to the top of Identifying Costume Jewelry Part 2
Return to Identifying Costume - Part 1
Return to Costume Jewelry
Return to Antique Jewelry Investor Home Page