Premier Jewelry Blog
Welcome to the Premier Jewelry Blog for the latest news and views from the celestial world of Premier Antique Jewelry, 20th-century Jewelry & rare natural Pearls.
The Premier Jewelry Blog:
Lets you know whenever any new Web pages appear on Antique Jewelry Investor.
Provides tips, news, views and updates on investing in Antique Jewelry, 20th-century Jewelry and Pearls for pleasure and profit.
Keeps you up-to-date with help forum questions and comments.
Lets you know when we send out the Antique Jewelry Investor newsletter
If you think something we have written is so awesome that you want to share it, could you please attribute the work and link back to this site. If you are unsure how to do this, please contact us and we will be happy to help you.
May 26, 2019
1964 gold ring ALBION AC Co 18ct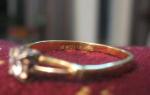 This was my mother's engagement ring, she was married in 1966. It's a solitaire diamond. One set of marks reads ALBION, followed by the mark AC Co inside